IPL 2023: The match between Hyderabad and Punjab will be played on Sunday. Before that match some players from Punjab met superstar Allu Arjun.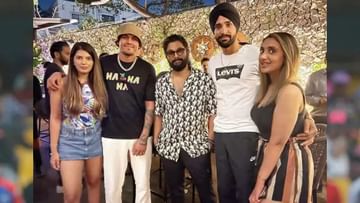 Pbks Players Met Allu Arjun
Punjab Kings have made a good start in the current IPL season. Punjab Kings got off to a good start in the 16th season of the IPL by winning both their opening matches. Meanwhile, Sunrisers Hyderabad have had their worst start to the season. They have lost the two matches they have played so far. The match between Punjab Kings and Sunrisers Hyderabad will be held tomorrow. The Punjab team has reached Hyderabad for this match to be held on Sunday. Before this match, the Punjab team met Pan India star hero Allu Arjun.
A few players from Punjab Kings met Bunny ahead of their match against Sunrisers Hyderabad on Sunday. Punjab players Rahul Chahar and Harpreet Brown spent time with Allu Arjun. He took pictures with Bunny and shared them on social media.
Today (8th April) is Allu Arjun's birthday. On this occasion, these two players from Punjab spent a lot of quality time with the superstar. Rahul Chahar shared a photo on his Instagram account. He captioned this photo saying who else would be the best person to meet in Hyderabad.
Talking about the performance of Punjab Kings under the captaincy of Shikhar Dhawan, the team has played very well so far. Punjab captain Shikhar Dhawan is currently third in the orange cap race, while Australian fast bowler Leighton Ellis, who is playing for Punjab, is in the purple cap race. It remains to be seen if Punjab will win their third consecutive victory by defeating Sunrisers in the match on Sunday. At the same time, the host team Hyderabad also wants to defeat Punjab to start the match tournament.
For more cricket news Click here do..
Check out the latest news highlights